2019 Keeseville Plein Air Festival
July 9, 2019 @ 8:00 am

-

July 14, 2019 @ 5:00 pm
AdkAction's 3rd Annual Keeseville Plein Air Festival is an event designed to share the beauty of Keeseville with artists far and wide while aiding in community revitalization efforts. It is a great opportunity for artists to experience the wonder of Keeseville's historic architecture, the famous AuSable Chasm, and the breathtaking agricultural community. The event will take place July 9th- 14th, with headquarters at the beautiful 1719 Block Gallery in Downtown Keeseville.
There will be 3 days of outdoor painting, visits to local farms, breweries, and wineries. Art collectors and community members are invited to attend the Wine and Cheese Preview Party starting at 6:00 PM on Friday, July 12th and to the Art Show and Sale on Saturday and Sunday from 10 am – 4 pm to view and buy art created during the festival.
2019 Schedule
July 9: Check-in, canvas stamping, dinner with hosts, community members, and artists. Painting officially begins as soon as canvases are stamped.
July 10: Workshop with Patrick McPhee (registration available for $50) from 8 am – 2 pm. Open painting for others.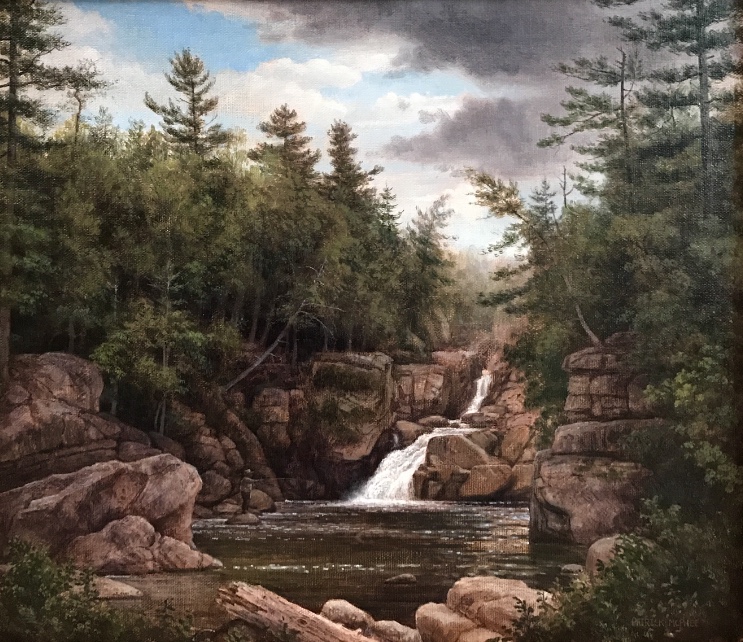 July 11: Open painting.
July 12: Open painting.
Bonus Theme: "Rise Up" Artists are encouraged to paint scenes inspiring the sensation of people, places, things, or spirit "rising up" in Keeseville. Artists are encouraged to submit a "Rise Up" painting to be eligible for the $250 Community Revitalization Prize. The proceeds from the "Rise Up" paintings directly support community revitalization.
Special Preview Party: The evening of July 12th will feature a special preview party, providing the public with a first look and chance to buy all of the paintings created during the festival. Wine and local cheeses will be provided, $10 door charge.
July 13 & 14: Show and Sale- AdkAction staff and volunteers will be on site to man the Show and Sale from 10:00 AM to 4:00 PM. Artists can come down to the gallery to speak with patrons or spend the day painting whatever they choose and enjoying the community.
______________________________________________________
10 Day Extended Show in Essex, NY
New in 2019: Extending show with limited artworks at the Adirondack Artists Association gallery in downtown Essex, New York.  We have invited Keeseville Plein Air artists to paint a larger geographic area this year to keep the scenes and energy fresh.
From July 15 – 24th you will be able to see a selection of artworks created during Keeseville Plein Air at the Essex gallery. We will hold a public reception on Saturday, July 20th from 6 pm – 9 pm at the gallery at 2748 Essex Road in Essex, NY in the Old Firehouse.